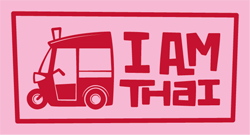 Established in December 2010 I am
Thai Takeaway is an authentic Thai
experience you won't forget.
Enjoy the eclectic flavors of fresh
quality produce and genuine recipes
created for your liking.
Having moved from Thailand via
Sydney owner and chef, discovered
that authentic Thai cuisine was a
rarity in Adelaide.
His hope was to share the aromatic
and unique flavors of Thailand.
Our open plan kitchen area and
service by our friendly staff makes it
the perfect place to enjoy Thailand in
Adelaide.
For an authentic Thai Experience…
Choose I am Thai Takeaway!